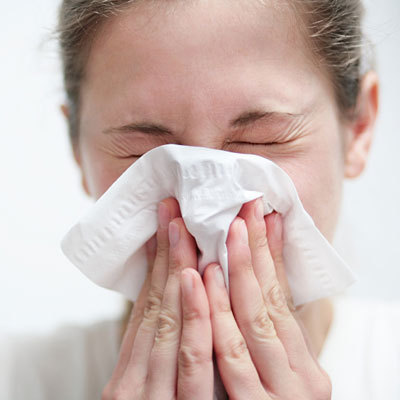 Compliments of Health Media Ventures, INC
Is it that time of year again? Are you suffering from sinus pressure, runny nose, and watery itchy eyes? Do you have allergies that make it hard to get through your day? Are you taking a sinus medicine such as Claritin, Flonase, or even trying to survive with nose sprays or eye drops? Then you need to read this!
Allergies affect nearly 20% of Americans or 1 in 5 are affected by allergies on a yearly basis. Many people rely on over the counter medications to help calm their symptoms but many are reaching for prescription strength allergy medication and even allergy shots. According to the United States Environmental Protection Agency's Research and Development team, allergy treatments cost the US $21 billion on a yearly basis and they are ranked 6th in annual expenditures for chronic conditions. These medications also have side effects such as drowsiness, low libido, increased appetite, altered taste and smell, infertility in women, anxiety, impairment of thinking, depression, and long term health issues such as decreased growth rate in children and cataracts, osteoporosis, and diabetes in adults. What's really troubling is more children are being diagnosed with seasonal allergies every year and many are being put on these medications.
In 2007 Harvard University released a study citing that sunlight exposure could reduce the onset of allergies and even asthma in children. This study found that low vitamin D levels could be coorelated with allergies and asthma in adults and children. They also found that pregnant women with vitamin D deficiency had a higher incidence of having children with allergies or asthma than those with normal vitamin D levels.
In October 2009, the Childhood Asthma Management Program Research Group released a study that found that in a group of 1024 children 35% were vitamin D deficienct. Average vitamin D levels were lowest in African Americans and highest in white subjects. They also found a significant coorelation with low vitamin D levels and higher odds of visiting the hospital or ER for allergy symptoms.

Here's the study.
Also in 2009, the Albert Einstein College of Medicine analysed the blood of over 6,000 children and found that 9% of children were deficient (less than 15ng/mL of blood) and 61% were vitamin D insufficient (less than 29ng/mL of blood). 70% of children are not getting enough Vitamin D! This study also found that vitamin D was linked with higher risk factors for poor bone health and heart disease including higher PTH levels and lower serum calcium levels, higher blood pressure and lower HDL cholesterol levels.

Read more here.
In a second study by the Albert Einstein College of Medicine, a sample of 3,100 children and 3,400 adults they tested IgE (allergy protein markers) and vitamin D levels and found that low vitamin D levels in children were coorelated to higher allergy rates. They tested children with 17 allergens including ragweed, oak, and food allergens like eggs and peanuts. They found that children with less than 15 nanograms per milliliter (Ng/mL) of vitamin D in their blood were a whopping 240 percent more likely to have a peanut allergy than children with 30 Ng/mL of vitamin D or higher, for instance.
A study by The German Health Interview and Examination Survey for Children and Adolescents found that in data of over 8,000 unvaccinated and 17,400 vaccinated children in 15 different countries, the vaccinated children had higher rates of disease and sickness. For instance, the allergy rate among vaccinated children was more than double the allergy rate among unvaccinated children. Vaccinated children were also found to be nearlyeight times more prone to developing asthma or chronic bronchitis than were unvaccinated children. While less than 1/2% of unvaccinated children were found to have developed an autoimmune disease while roughly seven percent of vaccinated children developed one.
So what can you do?
1) Make sure you're getting enough Vitamin D.
Get at least 10-15 minutes of sunlight 3 days per week without sunscreen so that your body can make the Vitamin D it needs.
Check out the recommendations from the National Institute of Health and get tested if you're in doubt.
Age

Male

Female

Pregnancy

Lactation

0–12 months*

400 IU




(10 mcg)

400 IU




(10 mcg)

1–13 years

600 IU




(15 mcg)

600 IU




(15 mcg)

14–18 years

600 IU




(15 mcg)

600 IU




(15 mcg)

600 IU




(15 mcg)

600 IU




(15 mcg)

19–50 years

600 IU




(15 mcg)

600 IU




(15 mcg)

600 IU




(15 mcg)

600 IU




(15 mcg)

51–70 years

600 IU




(15 mcg)

600 IU




(15 mcg)

>70 years

800 IU




(20 mcg)

800 IU




(20 mcg)
2) Eliminate food from your diet that are common allergens. Cow's milk is the most common food allergy in humans and it also causes an increase in mucus production. Studies have shown that food allergies can be an exacerbating factor in asthma cases.
3) Increase consumption of Omega 3 (fish oil such as EPA or DHA) to 3000-4000mg daily. Fish oil can help to reduce inflammation and studies have shown that fish oil supplementation reduces the onset of exercise-induced asthma. A double-blind research study of children who received 300mg of fish oil per day experienced significant improvements of asthma symptoms.
4) Get enough Vitamin C. Vitamin C is a powerful antioxidant and great at reducing inflammatory. A large preliminary study has shown that young children with asthma experience significantly less wheezing if they eat a diet high in fruits rich in vitamin C. Many people aren't getting enough Vitamin C even if they are taking a supplement. Do a vitamin C calibration to determine how much your body really needs.
5) Look into natural remedies for support. Supplements such as Aller-Aid can help to prevent allergy attacks in 75% of people without the side effects and it can also be used to support tissue to deal with allergy issues. There is also a children's formula called Aller-Aid Jr. If you're suffering from fever, congestion, and fatigue it might be a sinus infection and you can benefit from supplements such as Sine-Aid which is targeted at the common fungal sinus infection that won't respond to antibiotics.